Win an e-bike for your business or community group!
As part of our efforts to reduce carbon emissions and positively impact our environment, Sustainable Telford & Wrekin (part of Telford & Wrekin Council) are giving away a FREE electric bike to one small local business or community group! Please find details below on how to enter this competition:
To be in with a chance of winning we would like to hear about how you would use the bike and how it would positively impact your organisation and the environment.
Please follow the link below, using the questions in the entry form to tell us how you would use the bike.
The prize consists of 1 FREE electric bike, this includes the equipment needed to charge the bike's battery. The battery can be removed from the bike and charged indoors from a normal outlet socket. The bike is picture below!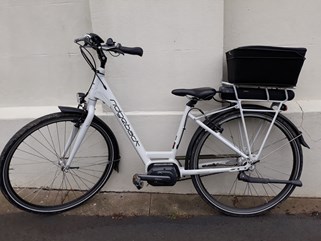 The start date for the competition is 26 April 2022 and it will close at 23:59 on 27 May 2022. ANY ENTRIES AFTER THIS DATE WILL NOT BE ACCEPTED.
Entries will be judged on the positive impact that the bike would have on the environment and the organisation receiving it.  The winning applicant will be contacted by 3 June 2022. The link to enter is below:
Please note: The bike is not new but in good condition, it has gone through a full service for which an evidenced receipt can be provided.
This competition is only open to small businesses and community organisations in the borough.
Terms & Conditions:
Telford & Wrekin Council defines a micro/small business as less than 50 employees.
The competition is not open to employees of Telford & Wrekin Council. The council's decision is final and no correspondence will be entered into. If the winner is uncontactable by 7 June 2022, the council retains the right to withdraw the prize offer and give the prize to a different winner.
Only 1 entry per business/ organisation allowed. Multiple entries will be rejected. 
Privacy Notice
Telford & Wrekin Council Communities, Customer & Commercial Services are collecting your personal data to enable us to assess entries, contact the winning party and meet the statutory requirements under Article 5(1) (b) of the General Data Protection Regulations 2018. 
Telford & Wrekin Council will not share any of your personal data collected with external organisations unless required to do so by law. For further details on the council's privacy arrangements please view the privacy page on the council's website page.