Keeping it Green with Telford & Wrekin
Tuesday 20 October 2020
Earlier this year, Telford and Wrekin Council's Catering and Cleaning Teams won the APSE Soft FM Green Innovation Award.
---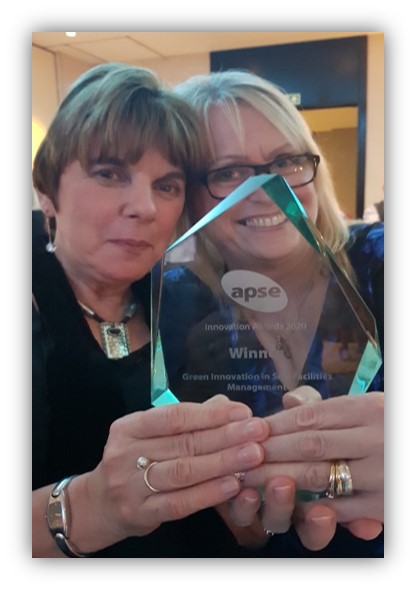 Here at Telford & Wrekin Council, our catering and cleaning teams are taking a proactive stance to meet the government agenda in support of climate change initiatives within our local area. Our mission is to reduce our carbon footprint by lessening single-use plastic and recycling food waste into fuel. Both services have been strong advocates for climate change initiatives for many years, with the cleaning team recently winning the 'Green Achiever Award'. Our teams are now redirecting such efforts towards the Council's commitment to reduce its carbon footprint by 2030.
Catering (Let's Dine) and Cleaning (Let's Clean) supply school services including the provision of school meals, caretaking and cleaning with over 200 contracts. We have taken a joint approach to support the reduction of single-use plastic, food waste, and harmful chemicals, providing a more sustainable service that supports not only the education of children within our borough and the wider community, but also the worldwide agenda to protect the planet for the future generation.
Team Catering - Bronze Food For Life
Our catering service has promoted several initiatives to combat climate change including efficient energy measures within school kitchens, returning recyclable packaging back to our suppliers, and the use of fully compostable plant-based disposables within our catering units. We have also introduced a reusable cup initiative where the customer pays a deposit and is then reimbursed upon the cups return; reducing the use of fully-compostable take out cups. We received a positive response to this initiative and are now looking to introduce this within other parts of our commercial catering services and events. These cups will also be used for in-house hospitality alongside a crockery alternative, and water is now served in reusable glass bottles and glasses.
Within our school kitchens we have also reduced the use of Clingfilm. Our waste oil is collected by our main food supplier and is recycled for fuel; we have also begun decanting fruit and yoghurts from large containers; reducing the use of individual plastic pots.
Cleaning - The Green Achievers
Our cleaning team have removed all desk bins in corporate buildings to support the recycling initiative to encourage workers to use recycling stations located on each floor. We have also introduced recyclable toilet paper and have put a stop on single-use cloths in favour of microfibre. All vacuums used by our cleaning teams are made within the UK reducing our carbon footprint by avoiding unnecessary imports. We are committed to supporting the environment and make every effort to use environmentally friendly products. The core products we use are Jangro Enviro Range - these are concentrated in 1litre containers, reducing packaging and storage (now used in catering).
Our policy is to support ECO schools, with an aim to reduce our carbon footprint, manage our energy, and use sustainable recyclable packaging and environmentally friendly chemicals. We have an energy awareness campaign to encourage employees to be aware of energy costs, this includes switching lights off if rooms are not in use, ensuring equipment is turned off when not in use, and ensuring taps are turned off after use.
From these initiatives we have achieved 'Green Achiever' status; an award for supporting the environment by recycling/using environmentally friendly cleaning materials and energy efficient cleaning equipment. In a bid to support the 'Plastic Free Telford' initiative, we are now revising all our plastic products to see if there are more environmentally sustainable products that we could switch to, to support our environmental aims. We will continue the journey - working together.