Help available to tackle fuel poverty
Friday 27 November 2020
More than seven thousand households in Telford and Wrekin are in fuel poverty, but there is help available for eligible people to keep their homes warm this winter.
---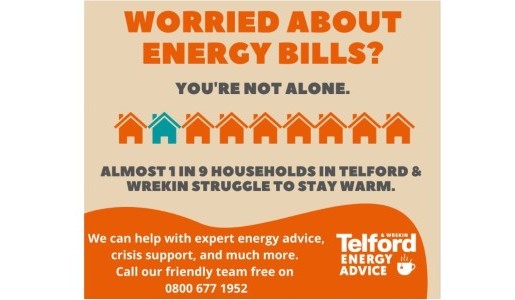 Friday 27th November 2020 is National Fuel Poverty Day and Telford & Wrekin Council is taking the opportunity to highlight the issue and make people aware of the schemes in place to help them.
Councillor David Wright, Telford & Wrekin Council's Cabinet Member for Housing said: "Many people may be suffering not knowing that there is plenty of help out there for them. There are schemes in place that offer grants to improve heating and insulation and there are services available to provide those eligible for such help with emergency repairs to boilers or even replacements.
"We work closely with the Marches Energy Agency who provide a free service called "Telford Energy Advice". Callers to their free telephone helpline will be asked to describe the issues they are having, and will then be told what scheme would best meet their needs and whether they are eligible for it, before taking them through the process of applying. If you feel you need help, please call them on 0800 677 1952"
Councillor Richard Overton, Telford & Wrekin Council's Cabinet Lead for Welfare added: "As a Council we have just appointed our first dedicated Fuel Poverty Officer who is working to reduce the number of households in the borough affected by this issue. We also operate our own energy switching service, called "Switch Telford", which is available for anyone to try and which has been known to save some people hundreds of pounds a year in fuel bills.
"Tackling fuel poverty is important. We know that babies living in cold, damp homes are more likely to suffer from asthma. Children living in warmer homes are proven to do better at school. People living in warmer homes are proven to be healthier therefore less of a burden on the health service."
To contact the free Telford Energy Advice service:  Call 0800 677 1952  Email: advice@mea.org.uk or visit www.mea.org.uk
There's further advice on saving money on fuel bills here
See if you can save by switching  Visit Switch Telford