What is Climate Change?
Climate is different to weather, the difference is a measure of time.  Weather is what conditions are like over a short period of time, climate is how the atmosphere 'behaves' over relatively long periods of time. 
Climate change is the large-scale, long-term shift that we are seeing in the planet's weather patterns and average temperatures, and it has been driven by human activity that has released CO2 (carbon dioxide) and other greenhouse gases into the air which causes an increase in global temperatures.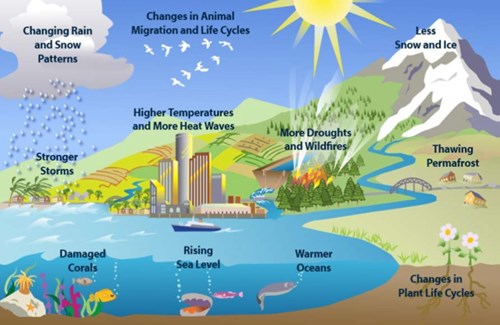 Greenhouse gases cause the earth to heat up, which affects global weather patterns, sea levels and the frequency of extreme weather events. Human activities have contributed to increasing levels of greenhouse gases - especially the burning of fossil fuels, such as coal, oil and natural gas.  In order to reduce the challenges posed by climate change, we must reduce the amount of CO2 we produce.  
This can be achieved by making simple changes to our day to day lives, like using less energy, driving less and recycling more.  We also need to prepare for the changes in our climate and by taking positive action now we can take advantage of opportunities to effect change.
In October 2018, the Intergovernmental Panel on Climate Change (IPCC) published their report on reaching the 1.5°C aspiration set out in the Paris Agreement; that report highlighted for the first time the significant increase in damage to health, the environment and the economy of holding global temperatures below 2°C, instead of below 1.5°C.
In the UK, this was followed by the publication of the Committee on Climate Change's report on, 'Net Zero – the UK's contribution to stopping global warming', and in June 2019 the Government legislated to increase the national target for emissions reductions from 80% to net zero emissions by 2050.
What are we doing?
Telford & Wrekin Council declared a Climate Emergency on 25th July 2019, committing to carbon neutrality from the Council's controlled operations and activities by 2030. A further commitment was made to engage with residents, businesses, public sector organisations and partners to work together with the aspiration for the Borough to also be carbon neutral by 2030. The Council is also committed to remove single-use plastics from the Council's operations and activities by 2023, replacing them with sustainable alternatives and to support the Surfers Against Sewage Plastic Free Communities Campaign.
In 2020 we published our action plan which will begin the conversation around what we need to do, as a Council and as a borough to limit the impact of climate change and to meet our commitment to be carbon neutral in 10 years' time.  Work on that has already begun, but in order for this target to be achievable, everyone across our borough must come together to work towards this common goal.  We've joined forces with businesses, Parish & Town Councils, community groups, schools, universities and others to form the Telford & Wrekin Climate Change Partnerships.   It is now widely accepted that we need to do things differently, both to adapt to the changes and reduce the extent of change long term.
We must act now to start making a difference for future generations.  We all have a responsibility to tackle climate change and encourage sustainability.